Theatrical design installations; telling stories through space
Get first-hand experience of a Punchdrunk-designed space and learn how to tell a story through design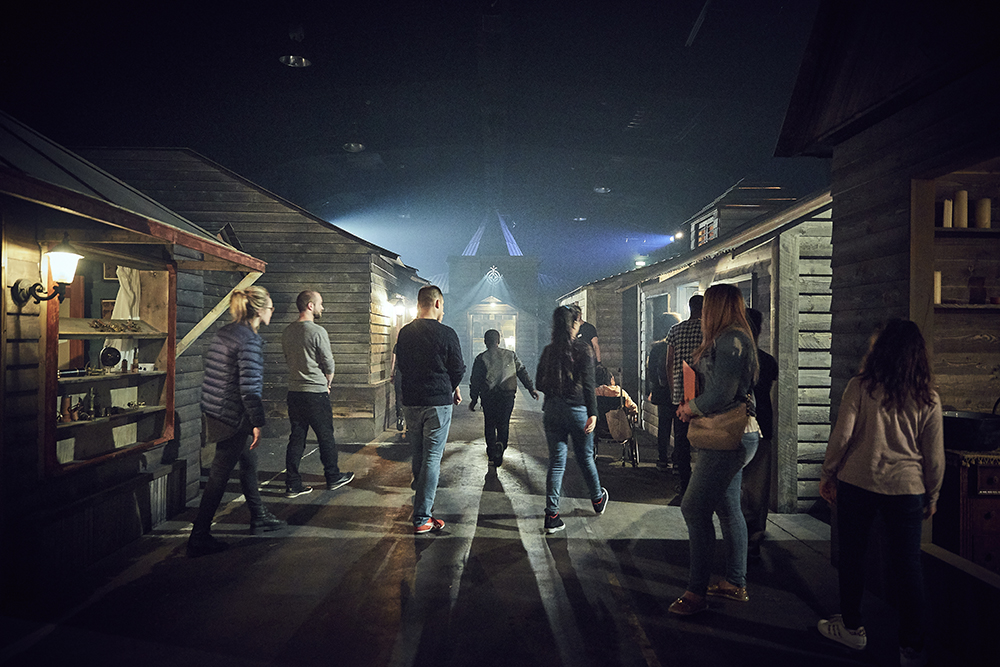 Date, time & location
22nd November, 9.00 - 15.30
Punchdrunk, Cannon Factory, Ashley Road, N17 9LH
Click here to book your free place
About the INSET
Punchdrunk designers apply a cinematic level of detail to their theatrical installations. The worlds that they create tell stories. This workshop will focus squarely on how to apply these design principles to school settings in order to create high impact design that is both quick and easy to create and that tells a story of its own.
Participants will work with a Punchdrunk Designer and Director in the village of Fallow Cross - Punchdrunk's live theatrical research and development space - where they will get first-hand experience of a Punchdrunk designed space. They will undertake a series of practical exercises to introduce them to Punchdrunk's design principles before being given simple assets to transform a small room as well as creating smaller scale handheld paper props such as letters and notes.
The focus for these designs will be on how to tell a story through design, be that for a learning project for primary schools, secondary schools looking to create an immersive production of a set text or for SEN teachers looking to create new and exciting story installations. These design techniques will also be useful for school displays, developing exciting starter lessons and looking at how objects can be used to ignite creative writing exercises.

Learning outcomes for participants

Understanding of Punchdrunk design principles

Understanding of how to employ basic and simple techniques to transform larger spaces

Understanding of how to employ quick and easy techniques to create hand held props such as letters

Understanding of how to structure a basic narrative through design


Primary school teachers

Secondary school teachers

SEND teachers

FE teachers


Since 2000, Punchdrunk has pioneered a game-changing form of theatre in which roaming audiences experience epic storytelling inside sensory theatrical worlds. Blending classic texts, physical performance, award-winning design installation and unexpected sites.


The worlds that Punchdrunk makes are transformative for those who experience them firsthand as audiences. Since 2008, Punchdrunk Enrichment has inspired and engaged participants through projects that focus on the innate creativity and imagination of the individual.

Punchdrunk Enrichment takes the company's innovative practice into communities and schools, creating performances with and for children, young people and participants. Integral to the creation of this work is the same commitment to exemplary design and performance that defines Punchdrunk's large-scale productions for adult audiences.

Key projects to date include installation-based schools projects, The Lost Lending Library, Under the Eiderdown, and Against Captain's Orders, a family adventure created in partnership with the National Maritime Museum. An extensive professional development programme and on-site projects for primary schools also ran alongside The Drowned Man: A Hollywood Fable. This summer the magical interactive experience for 5 - 11-year-olds, Small Wonders, opened at Bernie Grant Arts Centre.

In 2016 Punchdrunk has made its home in Tottenham and built a research and development space; The Village of Fallow Cross. Since its inception, Fallow Cross has been a space for the company to incubate and explore its future artistic and enrichment practice, as well as deliver a wide programme of workshops for schools, teachers and emerging artists.

Punchdrunk's current offer for schools includes A Small Tale; A Teacher-Led Adventure for one Primary teacher and their class, primary and secondary INSETS and practical performance workshops for secondary and FE students at Fallow Cross. Becoming an Artsmark partner is an exciting opportunity for Punchdrunk to meet new schools, teachers and students across London.

Tara Boland

Tara Boland is the Associate Enrichment Director at Punchdrunk. She conceives, writes and directs immersive projects and shows for children and young people in both school and public settings. She has created and delivered two new Teacher - Led projects since starting in summer 2016; A Small Tale and The Miniature Museum where magical design interventions create a narrative to that requires the pupils work to change its course. She Co-Directed the new family show Small Wonders, a magical adventure for 5 - 11 year olds and their families and also directs Punchdrunk Enrichment flagship primary school project The Lost Lending Library . Previous to her work at Punchdrunk Tara spent 6 years working as the Artistic Lead and Director at Hackney Shed, an inclusive Children's & Youth Theatre, whilst making her own work, performing in immersive shows for adults and young people and collaborating with various companies in creative and producorial roles. Tara studied Drama & Theatre Arts at Goldsmiths and trained for two years devised theatre and performance at LISPA.

Kate Rigby

Set and Costume Designer Kate Rigby, has been working in theatre, dance and site specific performance for eleven years. Kate has been working extensively with Punchdrunk designing and creating set and costume for Punchdrunk Enrichment and Punchdrunk International. Recent design credits include Small Wonders, The Oracles, Fallow Cross, Lost Lending Library - original designer for the touring Enrichment project, designer for the Australian tour and Commonwealth Games, Festival 2018. Working closely with directors and performers to devise, design and create immersive worlds is Kate's favourite way to work. Seeing audiences of all ages and abilities diving into the unexpected, carried away with a story and engaged to take part is truly rewarding. With each show, Punchdrunk Enrichment sets out to push the boundaries into unchartered waters which gives Kate a platform for discovery with each experience.

Kate has also worked with companies such as Southbank Centre and National Trust to design spaces for audience engagement, participation and to help audiences understand historical connections with environments.

Teaching design and design theory has also been part of Kate's career, working with the BA and MA students at St Mary's University Twickenham and young apprentices through various London based schemes teaching set design and dressing.